Spruce Up Your Outdoor Spaces with Concrete Stamping
Wednesday, May 09, 2018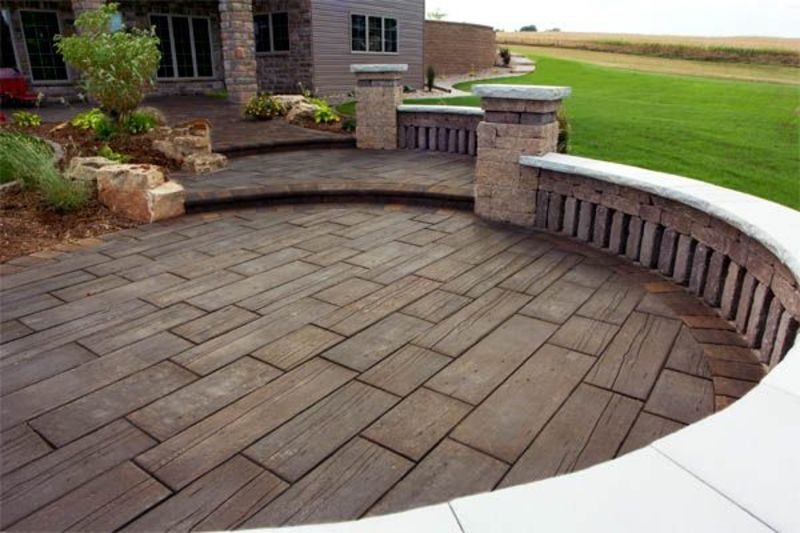 A plain slab of poured concrete for a patio may be common, but it is boring. However, recently, there has been a newly gained respect for using concrete as a decorating element in floors. counters and other applications. Landscapers are taking this age-old material and giving it a new look using a Stamping Process to create patios that look like natural slate or fieldstone at a fraction of the price these high-end materials would generally call for.
Stamped concrete has been around for a long time, but older methods used molds that were more like cookie cutters. New methods use natural sources which create a more realistic finished product. There have also been advances in the various coloring methods that are available. The prevailing one is a dry, powdered form, called a Dry Shake Floor Hardener, which also serves to firm up the poured concrete prior to stamping. After applying the hardener, a release agent is applied which allows the latex molds to be pulled up without sticking to the concrete. These agents come in an antique finish that when stamped into the joints and crevices of the concrete, create a realistic, three-dimensional appearance. Once the concrete has hardened, a sealer is used to not only protect the porous concrete from possible staining, but also to enhance the color of the finished patio. In wet areas, such as pool decks, an anti-slip ingredient can be added for safety.
There are so many patterns and colors available for stamped concrete that you can be creative and have fun designing your patio. Not only will it make outdoor entertaining more fun for you, but it is a home improvement that will give you a return on your investment when you sell. Here are five budget friendly stamped concrete ideas:
- Don't be square! Take advantage of the fact that concrete can be poured in any shape. You can use stamped concrete in small spaces, but why not jazz it up? Incorporate curves or go from a square to a half-circle. You can even shape the concrete to flow with the landscaping.
- Add a border. If stamping all the square footage of your concrete is too expensive, then consider just stamping the border. A patterned border frames the concrete, giving it a finished look. Borders are an inexpensive way to embellish plain concrete.
- Keep color simple. Coloring your concrete with multiple colors can greatly add to the cost of the project. You can save a lot of money by using one color. It will still be prettier and make a greater impact than a plain, gray slab.
- Saw cut and texture. A concrete contractor will be able to tell you if it's feasible to cut a pattern and then use a texture skin for pattern. Your contractor can create grooves in the concrete and then a texture skin can be applied to give a 3-dimensional look.
- Expand the area you're stamping. Extend unique, fun patterns beyond the patio onto the driveway, walkways and steps. Get more for your money by stamping in multiple places to create a holistic look rather than just splurging on one single area.
If you are making home improvements to sell your home, contact Sandra Nickel at 334-834-1500. She and her Hat Team of Professionals can help you decide what improvements will get the best return on your investment!
Photo Credit: remodelingexpense.com