Midtown Montgomery Neighborhoods
Midtown Montgomery Neighborhoods
Learn more about what makes Midtown Montgomery neighborhoods so unique by visiting our community pages. We look forward to helping you with your next move, where ever that may be!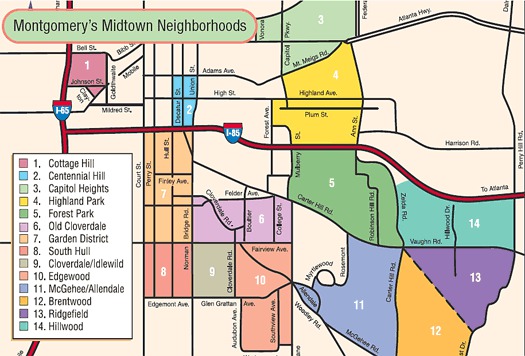 The Cottage Hill district is Montgomery's oldest surviving residential area. An abundance of front porches makes this a welcoming neighborhood.
Centennial Hill is probably best known for the famous citizens who come from its neighborhoods.
Capital Heights was the old 200-acre Vickers plantation until 1903 when Philadelphian Henry Davis bought the land and established the Capitol Heights Development Company.
Highland Park was the city's first "streetcar suburb," with tracks going down a median on Highland Avenue.
5. Forest Park
Few neighborhoods can rival the scenic beauty of Old Cloverdale, one of Montgomery's oldest and most picturesque residential areas.
Named the Garden District for its exquisite gardens, it was added to the National Register of Historic Places as early as the 1870's and continued to the 1930's with an eclectic mix of architectural styles.
The South Hull District rapidly expanded as the automobile grew as the popular mode of transportation.
The middle class neighborhood of Cloverdale/Idlewild features Bungalow and Cottage style architecture with a high concentration of the Tudor Revival style with high pitched roofs
What is now known as the Edgewood District was once considered "the country". Until the early thirties, Woodley Road was simply a gravel road filled with potholes that had to be hosed in the afternoons to keep the dust down.
11. McGehee/Allendale
12. Brentwood
13. Ridgefield
This upscale area features some of Montgomery's finest homes, many of which have even been featured in magazines, such as Southern Living.
Get the skinny on living in Midtown...