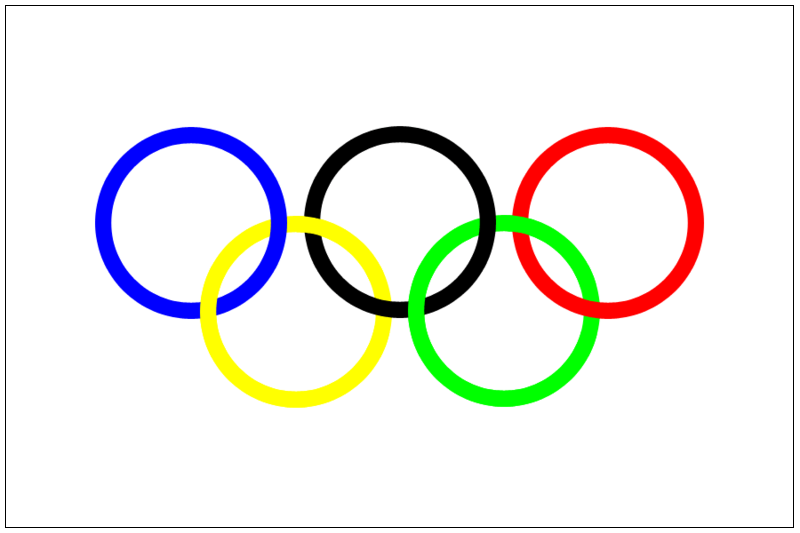 The London Summer Olympic Games begin tomorrow and end Sunday, August 12, 2012, and will highlight 302 events in 26 sports ranging from archery to wrestling. Click here for a complete listing of schedules, venues, participants, and anything you could ever want to know for your viewing enjoyment.
According to historical records, the first ancient Olympic Games can be traced back to 776 BC and consisted of a series of competitions held between representatives of several city-states from ancient Greece and featured mainly athletic but also combat and chariot racing events. During those games all struggles among city-states were set aside until the games were finished. The origin of the original Olympics is shrouded in mystery and legend, but we do know they were dedicated to Olympian gods and staged in the Olympia Plains in Greece.
The meaning and the values of the Olympic Games are conveyed by the symbols of the rings, the motto and the flame.
The five rings --

blue

,

yellow

, black,

green,

and

red

-- represent the five parts of the world now encompassed by Olympism and ready to compete against each other. Moreover, the six colors (including the white background) combined represent those of all nations, without exception.

The three words of the Latin motto translate to FASTER — HIGHER — STRONGER and encourage the athletes to give their best during competition.

In memory of the modern Olympic Games' ancient origins, the flame is lit (only by the sun's rays) in Olympia some months before the opening of the Games. A new torch is created for each edition of the Games. Each relay runner carries his or her own torch: it is the flame which is passed from runner to runner and which cannot be extinguished. This year American four-time Olympic gold medalist Michael Johnson described carrying the Olympic flame around Stonehenge as a "magic moment".
Want to know more about the Games? The web is rife with sites dedicated to your thirst for Olympic knowledge and activities. For a wide variety of quizzes and games, visit Fun Trivia, and Kaboose offers almost as many crafts and activities for kids (and parents) as there are events in the 2012 Games. Coloring pages can be found at Primary Games and Activity Village.
Search all Montgomery AL Real Estate And Homes For Sale.
Sandra Nickel and the Hat Team have distinguished themselves as leaders in the Montgomery AL real estate market. Sandra assists buyers looking for Montgomery real estate for sale and aggressively markets Montgomery AL homes for sale. Sandra is also an expert in helping families avoid foreclosure through short sales and is committed to helping families in financial hardship find options. For more information you can visit AvoidForeclosureMontgomery.com.
Interested in buying a bank-owned home? Get bank-owned listings alerts FREE!
You can reach Sandra by filling out the online contact form below or give her a call anytime.