How's Your IQ on the QM?
Saturday, March 22, 2014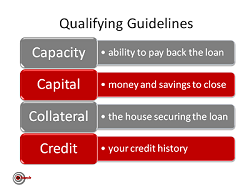 The Qualified Mortgage Rule came into effect on January 14, 2014 as one of the results to the Dodd Frank Reform Act to protect consumers from predatory lending practices. This will affect the underwriting standards that the majority of lenders will use to qualify borrowers.
The ability to repay rule states that financial information must be supplied by the borrower and verified by the lender. The borrower must have sufficient assets or income to pay back the loan which limits the maximum debt-to-income ratio of 43%. In an effort to present a more accurate picture of the costs to the borrower, teaser rates can no longer hide a mortgage's true cost.
A maximum of 3% in upfront points and fees can be paid on behalf of the borrower. There can be no negative amortization, interest-only or balloon payments and the loan term limit cannot exceed 30 years.
While there are more requirements, most deal with good underwriting practices that are followed by reputable lenders such as considering and verifying things that affect the ability to repay the mortgage like income, assets, employment status, simultaneous loans, debt, alimony, child support and credit history.
Search all Montgomery AL Real Estate And Homes For Sale.
Sandra Nickel and the Hat Team have distinguished themselves as leaders in the Montgomery AL real estate market. Sandra assists buyers looking for Montgomery real estate for sale and aggressively markets Montgomery AL homes for sale. Sandra is also an expert in helping families avoid foreclosure through short sales and is committed to helping families in financial hardship find options. For more information you can visit AvoidForeclosureMontgomery.com.
Interested in buying a bank-owned home? Get bank-owned listings alerts FREE!
You can reach Sandra by filling out the online contact form below or give her a call anytime.