Foreclosure Affects More Than Just the Montgomery AL Real Estate Market
Friday, August 10, 2012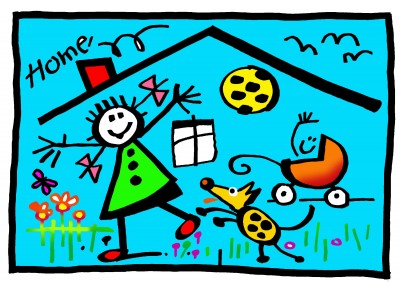 While much has been written about the impact of foreclosures on the Montgomery AL real estate market and the economy, little has been said about the personal effect of home loss on families, especially displaced children who are so often the invisible victims of the foreclosure crisis. Mortgage records do not tell how many children are in owner-occupied homes, and it is even harder to estimate the number of children in rental properties. Yet foreclosure affects not just the homeowner or landlord, but also the children living in the foreclosed properties.
According to a recently-released report by the Brookings Institute, an estimated 2.3 million children in single-family homes have already lost their homes to foreclosure, and even more – 3.0 million children – are at serious risk of losing their homes in the future. Another three million or so children have been evicted, or may face eviction, from rental properties that undergo foreclosure, suggesting that more than 8 million children are directly affected by the ongoing foreclosures of both Montgomery AL and nation-wide real estate.
In general, the negative effects of foreclosure include increased family stress and tension, financial hardship, moving homes, a sense of insecurity, changing schools, and a decrease in available community resources. While the impact of the first four areas is obvious, the changing of schools is more than simply an inconvenience. Research has shown that children who are forced to switch schools have lower levels of math and reading achievement than their more stable peers. Each move is associated with a reduction in math and reading scores by about one-tenth of a standard deviation, which is equivalent to about one month of school. Some studies have even suggested that children who change schools under negative circumstances are more likely to drop out and/or experience problems in social relationships.
The reasons for a possible drop in available community resources are twofold: the first is that often children move to a lower economic community with limited financial backing, and the second is that localities hard hit by foreclosure have reduced funding available for schools and other social services for children. It follows, then, that medical care (both physical and mental) for children is another area which is often adversely affected by foreclosure.
So, while the foreclosure crisis has indeed had a dire impact on the real estate market and the economy, we must be aware that the children involved in this process lose more than just a home.
Search all Montgomery AL Real Estate And Homes For Sale.
Sandra Nickel and the Hat Team have distinguished themselves as leaders in the Montgomery AL real estate market. Sandra assists buyers looking for Montgomery real estate for sale and aggressively markets Montgomery AL homes for sale. Sandra is also an expert in helping families avoid foreclosure through short sales and is committed to helping families in financial hardship find options. For more information you can visit AvoidForeclosureMontgomery.com.
Interested in buying a bank-owned home? Get bank-owned listings alerts FREE!
You can reach Sandra by filling out the online contact form below or give her a call anytime.