Don't Be Afraid to Pursue the Dream of Home Ownership!
Wednesday, September 6, 2017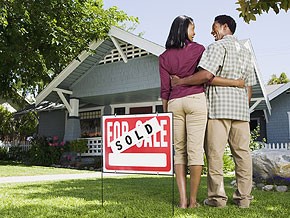 The idea of purchasing your first home is exciting, but can also feel overwhelming. Before starting your home search, you need to figure out how much you can afford. If you've been hesitant to move forward because you're afraid you won't have enough cash for a down payment or that you won't qualify for a loan, you shouldn't despair. There are programs available that can help you! So, stop padding your landlord's pockets and take advantage of programs that will assist you in making a sound financial investment in a home of your own.
The Alabama Housing Finance Authority has two programs designed to assist people with purchasing homes:
1.Step Up - Step Up is a homeownership program designed specifically for moderate-income home buyers who can afford a mortgage, but need help with the down payment. With this program, the money for the down payment is secured by a 10-year second mortgage and is combined with a 30-year, fixed-rate first mortgage. Since the loans are serviced by ServiSolutions, a division of AHFA, homeowners have only one check to write each month. Program participants must complete a homebuyer education course to qualify…a small price to pay to become a homeowner! People who earn less than $97,300 are eligible for the Step Up program, regardless of household size or location.
Step Up+ is a new, temporary program that was just announced by the AHFA in June, 2017. This mortgage enhancement will pay the upfront split private mortgage insurance premium (up to $1,500) for homebuyers who earn less than 80% of the area median income. This way, homebuyers will pay a lower monthly premium as part of their mortgage payment. Information and qualifications:
HFA Preferred conventional loans only

3% down payment assistance available through Step Up

For new or existing homes in Alabama

Homebuyers must have a credit score of 620 or higher

Must complete homeownership education course

Must apply for loan through a participating lender

Private mortgage insurance will be underwritten by Genworth or ARCH (no delegated options)
All Step Up+ loans must close by September 30, 2017.
The Step Up program's standard $97,300 household income limits will NOT apply for Step Up+.
For more information, contact a participating lender.
2.Mortgage Credit Certificates - The Mortgage Credit Certificate (MCC) program gives homebuyers another savings option. MCCs are available with conventional fixed-rate, FHA, VA, Rural Development and privately insured mortgages. Applications are accepted on a first-come, first-served basis by a statewide network of participating lenders. Participants must meet federally established income and sales price limits.
MCCs provide a tax credit to reduce the amount of federal taxes owed by a percentage of the annual mortgage interest paid each year. The remaining annual interest may be claimed as a mortgage interest deduction on the homebuyer's federal tax return.
Qualified homebuyers pay lower federal income taxes or benefit from immediate savings by updating the withholdings on their W-4 form. MCCs may be paired with AHFA's Step Up program or any other 30-year, fixed rate, amortizing mortgage offered by a participating lender.
Mortgage credit rates are based on the loan amount:
20% MCC for loans of $150,001 or greater; no cap

30% MCC for loans of $100,001 to $150,000; $2,000 per year cap

50% MCC for loans of $100,000 or less; $2,000 per year cap
The real estate professionals at Homes for Sale in Montgomery Alabama can explain these programs to you and answer any questions that you have. Contact them and start your home search today!
http://www.homesforsaleinmontgomeryalabama.com/Blog/First-Time-Home-Buyers-and-Unexpected-Expenses
http://www.homesforsaleinmontgomeryalabama.com/Blog/Apartment-Hunting-for-College-Graduates
http://www.homesforsaleinmontgomeryalabama.com/Blog/Home-Buying-Made-Easy