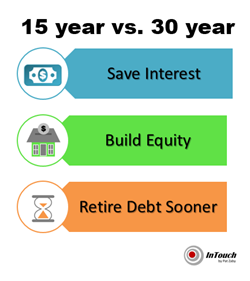 Freddie Mac chief economist, Frank Nothaft, says that affordability, stability and flexibility are the three reasons homebuyers overwhelmingly choose a 30 year term. However, for those who can afford a higher payment, there are three additional reasons to choose a 15 year term: save interest, build equity and retire the debt sooner.
First-time buyers have a higher tendency to use a minimum down payment and are very concerned with affordable payments. It is understandable that the majority of these buyers select 30 year, fixed-rate mortgages.
Consider a $200,000 mortgage at 30 year and 15 year terms with recent mortgage rates at 4.2% and 3.31% respectively. The payment is $433.15 less on the 30 year term but the interest rate being charged is higher. The total interest paid by the borrower if each of the loans was retired would be almost three times more for the 30 year term.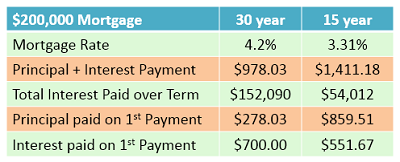 Another interesting thing about the 15 years mortgage is that more of the payment is going to principal than interest from the very first payment. It would take over 13 years on the 30 year mortgage for the principal to exceed the interest allocation.
Some people might suggest getting a 30 year loan and making the payments as if they were on a 15 year loan. That would certainly accelerate amortization and save interest. The real challenge is the discipline to actually make the payments on a consistent basis if you don't have to. Many experts cite that one of the benefits of homeownership is a forced savings that occurs due to the amortization that is not necessarily done by renters.
Search all Montgomery AL Real Estate And Homes For Sale.
Sandra Nickel and the Hat Team have distinguished themselves as leaders in the Montgomery AL real estate market. Sandra assists buyers looking for Montgomery real estate for sale and aggressively markets Montgomery AL homes for sale. Sandra is also an expert in helping families avoid foreclosure through short sales and is committed to helping families in financial hardship find options. For more information you can visit AvoidForeclosureMontgomery.com.
Interested in buying a bank-owned home? Get bank-owned listings alerts FREE!
You can reach Sandra by filling out the online contact form below or give her a call anytime.