Wednesday, November 27, 2013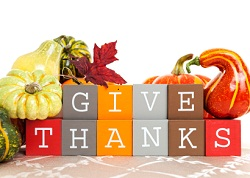 Most school children would probably say that Thanksgiving dates back to the Pilgrims at Plymouth as early as 1621. By the late 1660's, it had become traditional to hold a harvest festival in New England.
President George Washington declared the first nation-wide thanksgiving in 1789 "as a day of public thanksgiving and prayer to be observed by acknowledging with grateful hearts the many and signal favours of Almighty God."
One hundred fifty years ago during the Civil War, in October, 1863, President Abraham Lincoln proclaimed the first national day of Thanksgiving.
William Seward, Lincoln's secretary of state, drafted the proclamation: "No human counsel hath devised nor hath any mortal hand worked out these great things. They are the gracious gifts of the Most High God…they should be solemnly, reverently and gratefully acknowledged as with one heart and one voice by the whole American People."
Even though the country was in the middle of the costly Civil War, the people of America started an enduring tradition to give thanks. In 1941, Congress determined that Thanksgiving will be celebrated on the fourth Thursday in November.
Search all Montgomery AL Real Estate And Homes For Sale.
Sandra Nickel and the Hat Team have distinguished themselves as leaders in the Montgomery AL real estate market. Sandra assists buyers looking for Montgomery real estate for sale and aggressively markets Montgomery AL homes for sale. Sandra is also an expert in helping families avoid foreclosure through short sales and is committed to helping families in financial hardship find options. For more information you can visit AvoidForeclosureMontgomery.com.
Interested in buying a bank-owned home? Get bank-owned listings alerts FREE!
You can reach Sandra by filling out the online contact form below or give her a call anytime.