Wednesday, February 19, 2014
A ½% increase in interest rate may not sound like much but it is roughly equivalent to a 5% increase in price. It becomes obvious when you compare the payments.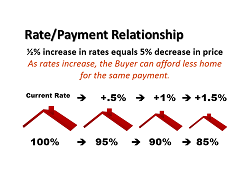 If you financed 100% of the cost of a $250,000 home at 4.5% interest for 30 years, the payment would be $1,266.71 per month. If the mortgage rate went up to 5%, the payment would be $1,342.05. If the home increased 5% in value, the $262,250 loan at the lower 4.5% rate would have payments of $1,330.05.
The two payments are close enough to justify the statement that a ½% change in interest is approximately equal to 5% change in price.
Each time interest rates go up, fewer people can qualify to buy a seller's home. The mortgage rules that went into effect this year require buyers to meet specific payment to income ratios. As demand picks up for the seasonal market, most experts expect rates to increase.
Buyers will be doubly challenged in the current market because prices are rising (NAR reports 11% last year) along with the anticipated mortgage rates. Buyers who wait will inevitably be paying more to live in the same home had they acted sooner.
Check out on how Interest Affects Price for a home in your price range.
Search all Montgomery AL Real Estate And Homes For Sale.
Sandra Nickel and the Hat Team have distinguished themselves as leaders in the Montgomery AL real estate market. Sandra assists buyers looking for Montgomery real estate for sale and aggressively markets Montgomery AL homes for sale. Sandra is also an expert in helping families avoid foreclosure through short sales and is committed to helping families in financial hardship find options. For more information you can visit AvoidForeclosureMontgomery.com.
Interested in buying a bank-owned home? Get bank-owned listings alerts FREE!
You can reach Sandra by filling out the online contact form below or give her a call anytime.