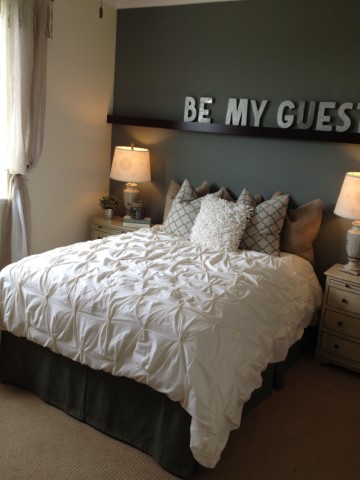 When you have overnight guests, you want them to feel welcomed and comfortable. Providing a place for them to sleep is the bare minimum. If you're lucky enough to have a designated, full time guest room, there are a lot of little things you can do to create a space that your guests will enjoy. Here is a list of essentials to have in your guest room so that it is ready for visitors any time:
Comfortable Bedding - Since this bed is not likely to be used all the time, you don't need to outfit it with top of the line bedding (unless you choose to), but you want it to be comfortable and aesthetically pleasing. Some quality cotton percale sheets and a coordinating comforter or quilt will provide a comfy bed for your guests. Use neutral colors that give a simple, clean look.

Extra Blankets & Pillows - You want your guests to be cozy and comfortable, so, provide extra blankets for chilly nights. Extra pillows cam be used to provide cushioning should your guests want to prop themselves up to read in bed.

Lighting - Be sure to provide bedside lighting. Place a lamp on the bedside table that will allow your guests to have subtle lighting without having the overhead light on. Try to find a lamp that has multiple settings so that they can choose how bright or soft they want the light to be.

Extra Toiletries - Sample sized toiletries are perfect for guests. Arranged in a pretty basket with a new toothbrush, they will have them feeling pampered. Speaking of toiletries, here are 10 Thoughtful, Welcoming Touches for Your Guest Bathroom.

Bath Towels - A stack of fluffy, white bath towels on the bed will be a welcome sight for your guests. Make sure you have a wash cloth, hand towel, and bath towel for each person that is staying with you.

Wastebasket - A simple item that is often overlooked in a guest room is a wastebasket. When your guests need to throw something away, they shouldn't have to make frequent trips outside their room to find a trash can. Choose a small, attractive wastebasket that coordinates with your guest room style.

Full-Length Mirror - Whether you have it hanging on the back of the door, or propped up against a wall, your guests will appreciate having a full-length mirror in their room. They may be sharing a bathroom with others, so having a mirror in the guest room will allow them to get ready in there if the bathroom is occupied.
These are just a few essentials that will make your guests happy to stay with you. You can take it step further and decorate the guest room as well. But keep it simple and remember that comfort is the top priority! 30+ Cozy Ways to Decorate Your Guest Bedroom
If you are in the market to buy or sell a home, let Sandra Nickel and her Hat Team of Professionals assist you with all your real estate needs! Call them today at 334-834-1500!
Photo Credit: pinterest.com