IRS allows taxpayers the option to take the standard deduction or the itemized deduction. The astute taxpayer will compare to see which one will result in the greatest deduction and the election can be made each year.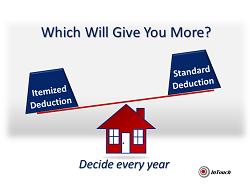 The 2013 standard deduction for a married couple filing jointly is $12,200 and $6,100 for a single taxpayer. It doesn't require any proof of actual expense and has no requirement for home ownership.
Items that can be included on Schedule A for itemized deductions include:
Certain taxes paid for state and local income tax, general sales tax, real estate property taxes, personal property taxes or other taxes paid

Qualified home mortgage interest, investment interest or possibly, mortgage insurance premiums

Charitable contributions

Casualty or theft losses

Medical and dental expenses that exceed 7.5% of adjusted gross income if born before 1/2/49 or 10% if born after 1/2/49

Job expenses and other miscellaneous deductions that exceed 2% of adjusted gross income
A non-homeowner taxpayer who has been taking the standard deduction needs to consider that it isn't just the ability to deduct the mortgage interest and property taxes.
While the standard deduction might be the obvious choice for a non-homeowner, the combination of the mortgage interest and the property taxes plus other allowable deductions not recognized previously such as charitable contributions, now makes taking the itemized deductions significantly more advantageous.
Search all Montgomery AL Real Estate And Homes For Sale.
Sandra Nickel and the Hat Team have distinguished themselves as leaders in the Montgomery AL real estate market. Sandra assists buyers looking for Montgomery real estate for sale and aggressively markets Montgomery AL homes for sale. Sandra is also an expert in helping families avoid foreclosure through short sales and is committed to helping families in financial hardship find options. For more information you can visit AvoidForeclosureMontgomery.com.
Interested in buying a bank-owned home? Get bank-owned listings alerts FREE!
You can reach Sandra by filling out the online contact form below or give her a call anytime.